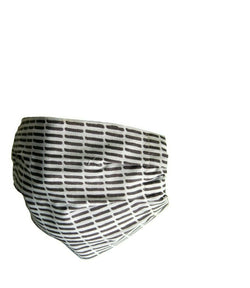 Reusable Cotton Pleated Mask - Grey Stripes
Pretty and Calm: Maximum Coverage

Washable, Breathable Dual Layer Face Cloth, Dust face cover, Non-Medical Face Mask, Elastic Ear Loops 
SIZE: Approx.

8 inches x 4 inches (expandable up to 5.5 inches in height)

Hand-stitched face covering made up of dual layers of pre-shrunk tight weave cotton

sewn together

. This pleated face mask unfolds to offer a generous face covering.

 Pleated front with two soft white elastic ear loops provide a snug fit.

This non-medical face mask features elastic ear loops and a pleated front, for a snug fit.

 Completely washable and reusable non-medical face mask made with 100% cotton.

Crafted with love.

 
However, if you have any concerns please feel free to contact us in the inbox as your satisfaction is our top priority.
CARE INSTRUCTION:
   

Washable: Recommended to hand wash with normal temperature water and mild detergent and air dry.

Do not mix dark colored masks (like maroon, red, purple, etc) with light colored laundry as they may bleed color. 
NOTE:
These are not medical grade masks and are designed to prevent any droplets getting out of the nose and mouth.

There may be a slight colour variation in the photos and the actual product– due to the colour display based on each buyer's computer / mobile device.
BULK ORDERS:
Looking to order for your office/ shop? Please drop us a note.
FAQs:
What are the size dimensions?
All our mask covers are UK standard.
Approx. 8 inches x 4 inches (expandable up to 5.5 inches in height)
Material and design?
It is a 100% cotton double layer Pleated mask with flexible ear loops. There is no uncomfortable metal wire. The material is breathable and lightweight.
Is it machine washable and reusable?
Yes, face masks are washable at 60º - it is a reusable face cover. (We recommend hand wash to avoid shrinking.)
Where is it packed and delivered?
There is one mask in a pack and every single mask is packed and dispatched from Wallington, UK. It will be sent in a letter envelope via royal mail.
Does it protect me from the virus?
Using face masks combined with other preventive measures, like frequent hand-washing and social distancing, help prevent the spread of the virus. You can read more about it on NHS and WHO websites. This is a good quality protective covering against germs, fumes and dust particles.
For any other questions
Please let us know if there's anything else we can do for you. We are happy to help.
Back
You can return items within 30 days of receipt of your order.
For hygiene and sanitary reasons, we do not accept returns and exchanges for face masks. However, your satisfaction is our first priority so please feel free to contact us if you have any question about your order.