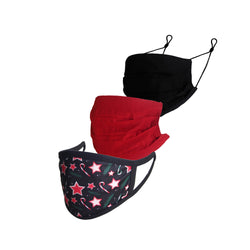 Pack of 3 Fashion Mask- Black Pleated, Ruby Red, Christmas Star
Pack of 3 Fashion Mask
(Black Pleated, Ruby Red & Christmas Star)
Get into the holiday spirit in 2020 with 1 Best Christmas face mask and 2 Pleated face coverings. 
Artsy and adjustable – our pleated masks are good to keep you protected from germs while giving you maximum face coverage. Pretty print coupled with 100% cotton that feels light on your skin while you move on with your day making each moment just as pretty. You feel as soft as the fabric as these come without nose wires to make you feel calm and comfortable.
PLEATED MASKS FEATURES:
Size: Approximately 7 inches x 3.5 inches (expandable up to 6 inches in height)
Material: 100% pure cotton
Double layered
Reusable and Washable
Lightweight and Breathable
Adjustable ear loops
 CHRISTMAS MASKS FEATURES:
Size:  approx 7.5 inches side to side X 4.5 inches top to bottom,

100% Polyester, No Colour fading after multiple washes
Double Layered Mask with Filter Pocket
Anti-Splash
Quick Drying
Reusable
NOTE:
These are not medical grade masks and are designed to prevent any droplets from getting out of the nose and mouth.
There may be a slight colour variation in the photos and the actual product– due to the colour display based on each buyer's computer / mobile device
CARE INSTRUCTIONS:
Washable: Recommended to hand wash with normal temperature water and mild detergent
For machine wash: Use gentle cycle and normal temperature (not more than 60 C.)
Air dry. Avoid tumble drying.
Do not mix dark coloured masks (like maroon, red, purple, etc.) with light coloured laundry as they may bleed colour
BULK ORDERS:
Looking to order for your office/shop or a gathering? Please drop us a note.
Back
You can return items within 30 days of receipt of your order.
For hygiene and sanitary reasons, we do not accept returns and exchanges for face masks. However, your satisfaction is our first priority so please feel free to contact us if you have any question about your order.